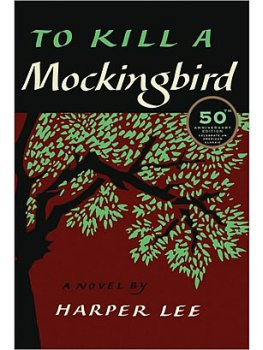 一個多月前讀完了Robert M. Pirsig所寫的Zen and the Art of Motorcycle Maintenance之後,我就馬不停蹄的開始閱讀Harper Lee所寫的小說To Kill a Mockingbird。
To Kill a Mockingbird是美國中學生的指定讀物之一,因此沒有讀過這本書的美國人甚少。但是對於我們這些外國移民來說情況卻正好相反。我們這些移民(特別是留學生出身的)可能讀過很多美國人連聽都沒有聽過的專業學術期刊和書籍,但是一般美國人耳熟能詳的經典我們卻沒有讀過幾本。為了能夠更多的了解美國文化,一方面也是因為我本身對文學跟歷史一向很有興趣,因此我決定要來多讀一些英文的文學作品。
To Kill a Mockingbird的主角是一個小學年紀的白人小女孩Scout。這個小女孩生長在種族歧視非常嚴重的美國南方。小女孩的爸爸Atticus是一個小鎮上的律師,他因為接下一樁為黑人辯護的案件而遭到親友和鄰居的凌辱和毀謗。Scout和他的哥哥Jem也因為爸爸的緣故遭到親戚、同學、和鄰居的譏嘲和排擠。當我看到Scout的外甥Francis(Francis跟Scout的年紀差不多,只是因為輩分的關係Francis要稱Scout為姑姑。)故意一而再再而三的在Scout面前說她的爸爸是nigger-lover(nigger是白人對黑人的一種歧視性的稱法)的時候,我激動到眼淚都流出來。我在想,為什麼人類總是要用盡方法去貶低與自己不同的其他人類呢?到底是什麼樣的力量可以讓這些篤信聖經、敬畏上帝的美國白人完全無視聖經的教導而把黑人當做牲畜一樣的來看待?我不能理解,真的不能理解。
書中有一段是Scout和Jem又在外面受到鄰居老太太的言語刺激,Jem一氣之下把老太太院子裡種的花全部打落在地上。事後Scout跟Atticus有一段對話。對話中Scout問他的爸爸為什麼要幫黑人辯護?Atticus說因為他認為這是對的、應該要做的事情。Scout對他爸爸說:那你的想法一定錯了,因為我們周圍所有的人都說你是錯的。Atticus於是說:
They're certainly entitled to think that, and they're entitled to full respect for their opinions… but before I can live with other folks I've got to live with myself. The one thing that doesn't abide by majority rule is a person's conscience.
之後,Atticus又說到他所認為的「勇氣」是:
I wanted you to see what real courage is, instead of getting the idea that courage is a man with a gun in his hand. It's when you know you're licked before you begin but you begin anyway and you see it through no matter what. You rarely win, but sometimes you do.
目前我就讀到這裡,但是這真是一本讓我感動的小說。
在讀這本書的時候,有一首歌不斷的迴旋在我腦中。我這幾天無時無刻嘴裡總是哼著這首歌Over the Rainbow:
原唱版本:

一個被改編過但是我非常喜歡的版本:

其他我打算要看的書:
Of Mice and Men
1984
The Catcher in the Rye (我已經讀過中文翻譯「麥田捕手」)
Animal Farm
Lord of the Flies
The Great Gatsby
Invisible Man
Catch-22
The Scarlet Letter
The Prince
The Adventures of Tom Sawyer
The Adventures of Huckleberry Finn