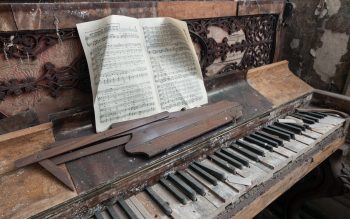 Be very wary of those so-called free pianos on Craigslist or any other classified ad sites. Why? Because nothing is free especially for a piano. Let me break down the cost of a free piano:
Piano moving: It costs around $150-$300 for a professional piano mover to move a vertical piano and $250-$500 to move a grand piano. Do NOT try to move piano by yourself. Not only is piano heavy, it is also very tricky to move. If you move the piano by yourself and anything goes wrong, you will (a) damage the piano, (b) damage the property of the seller or yourself, (c) probably hurt yourself. Remember to hire an "insured" piano mover and not just any mover.
Piano tuning: A free piano is almost guaranteed to be seriously out of tune. (A side note, Craigslist sellers usually say, "The piano hasn't be tuned for a few years but it is still pretty much in tune." It is a BS, don't believe it.) A regular tuning costs around $100-$200 but a seriously out-of-tune piano will need more than one tuning to get back in tune, which means you will spend at least $200-$400 for tuning.
Repair: Most free pianos will have a few keys that do not respond and probably strings that are broken or rusted. You will need a piano technician to repair the piano before the piano can be tuned or played. Prepare to spend at least a few hundred dollars to repair a "free" piano.
If you add up all the cost, it will come to around $1,000. For that kind of money, you can get a decent new digital piano. If you add a little more, you can get a decent used acoustic vertical piano from a reputable piano dealer or piano technician/rebuilder who will not only delivery the piano for free, give you a free tuning, and possibly provide a warranty between 1 to 10 years in case anything goes wrong.
Conclusion: Forget about the free piano; they are not free, really.
This is one of the articles in a series called "Piano Buying Guide for Parents of Young Students". You can find other articles of the series through this link.